Poet

Laureate

Historian

Photographer

Contact

Biography

Wikipedia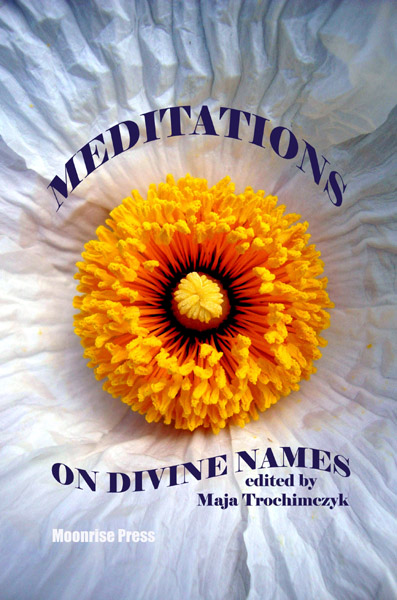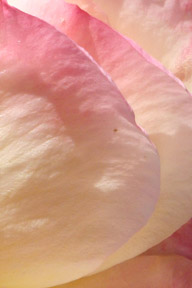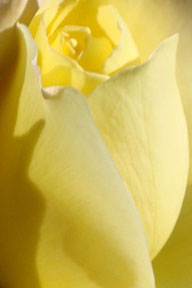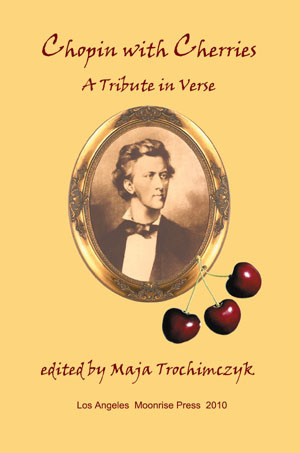 Moonrise Press

Chopin with Cherries

Poetry Laurels

Readings & Events


Poetry is a way of life and a shortcut to the sublime... An avid reader of poetry since my Polish childhood, I started writing in English. The flexibility, richness and focus of this language never cease to amaze me! Since 1995, I have kept a personal poetic journal and gave all sorts of poems to my friends. I like illustrating them with my photographs, taken mostly in my garden and neighborhood of Southern California (see my poetry page). In 2006, I decided to share my work and at public readings and in publications. Many of my poems have been inspired by art and presented at art exhibitions in Southern California, including the Pacific Asia Museum and private galleries. In addition to these "captions to paintings," I write portraits of people I meet, stories from my life, memories from my childhood and imaginary romances. I've belonged to several poetry groups; Poets on Site in Pasadena, and Village Poets of Sunland-Tujunga, among others. See the lists of poems published in various journals, my poetry books, and various readings, with event photos.


Why do I write? Because I do not have to! Poetry is freedom. My favorite poets (in random order) include Rainer Maria Rilke, Artur Rimbaud, Czeslaw Milosz, e.e. cummings, T.S. Eliot, and Emily Dickinson. In 2010-2012 I served as the Sixth Poet Laureate of Sunland-Tujunga. I publish three blogs on poetry and music: Altadena Poetry Review, California Quarterly, The Clockwise Cat, Magnapoets, Quill and Parchment, Ekphrasis Journal, Epiphany Magazine, Lily Literary Review, Loch Raven Review, Lummox Journal, Phantom Seed, poeticdiversity, The Sage Trail, Spectrum, San Gabriel Valley Poetry Quarterly, Van Gogh's Ear, and chapbooks and anthologies by Poets on Site, and others. My poems appeared also in Polish, Serbian, Spanish and French translations. Videos may be found on the YouTube Channel of Moonrise Press.



Miriam's Iris, or Angels in the Garden
Moonrise Press, 2008. Read a sample of poems here. A collection of 60 poems organized around appearances of six angels: Amor, Eros, Eloe, Thanatos, Ellenai, and Sophia. The poems are intertwined with interludes of memory, nostalgia, and nature mysticism. The book is illustrated with photos of landscapes and gardens of Southern California.

Distributed by Amazon.com, lulu.com, etc. Paperback: ISBN 978-0-578-00166-1 Google Books: Miriam Preview. Hardcover with Color Photos (Second Edition, 126 pp.):ISBN 978-0-9819693-2-9 Reviewed by G. Murray Thomas, at poetix.net (February 2010). "Rarely does one find a book of poetry which holds together as well as Miriam's Iris."


Meditations on Divine Names
An anthology of contemporary poetry edited by Maja Trochimczyk. Published in March 2012. ISBN 978-0-9819693-8-1, 216 pages, paperback. This anthology of contemporary poetry features 140 poems by 64 poets associated with diverse spiritual traditions. Their poems represent various branches of Christianity, Judaism, Hinduism, Buddhism, Kabbalah, Sukyo Mahikari, etc. The book is divided into ten paired sections: Naming, Names, Earth, Water, Air, Fire, He, She, Being, and Loving.

Read more about Meditations on Moonrise Press website. Reviewed by Prof. Grazyna Kozaczka in the Polish Review, vol. 58, no. 4, 2013.





Slicing the Bread. Children's Survival Manual in 25 Poems, a chapbook inspired by WWII and post-war memories of family and friends, Finishing Line Press December 2014. ISBN-10: 1622296877 ISBN-13: 978-1622296873. Available on Amazon, Finishing Line Press, etc. For dates of the Book Tour 2015 - See the Events Page. Read more on the Poetry Laurels Blog.

Chopin with Cherries: A Tribute in Verse
An anothology of poetry edited by Maja Trochimczyk. Published in February 2010 by Moonrise Press. ISBN 978-0-9819693-0-5. Available in Paperback and PDF.
Read more about this anthology on the Chopin with Cherries blog. This volume celebrates the 200th birth anniversary of a Polish pianist-composer, Fryderyk Chopin (1810-1849) in a selection of 123 poems by 92 contemporary poets, mostly based in America. The hightlights include the first English translation of Norwid's Fortepian Szopena by Leonard Kress, and classic poems by Emma Lazarus, Amy Lowell and T.S. Eliot. Review by John Z. Guzlowski in The Cosmopolitan Review 2 no. 1 (Spring 2010). Review by Christopher Woods in Contemporary World Literature 5 (February 2011): "For those who have been moved by the music of Fryderyk Chopin, this new international anthology will be a treat... One breathtaking aspect of the anthology is the diversity of voices, both stylistically and geographically... [Among] the striking aspects of the anthology is the way in which the editor, Polish born Maja Trochimczyk, arranges the various sections, not only by musical forms, but also into sections like beauty and death."


Into Light: Poems and Incantations, ISBN 9780996398190 (eBook),ISBN 9780996398183 (Paperback). Published in 2016. Includes 30 poems and 12 "incantations" that focus on the intertwined spiritual concepts of Light and Love. Poems encompass a broad scope of spiritual insights, without losing the main focus: reaching out in Love to the One Light, the Source of All.

MUSIC HISTORY
As an author of seven books and over 70 scholarly articles and chapters published in peer-reviewed journals and books, I'm well established in the music history world, with two main specializations: Polish music of the 19th and 20th centuries, and 20th-century contemporary music (Andriessen, Brant, Lutoslawski, and others). Two of my three graduate degrees are in music history: Ph.D. from McGill University (1994) and M.A. from the University of Warsaw (1986). I also studied sound engineering (M.A. 1987) and used this background in my musical research. A former director of USC Polish Music Center, I am a member of the Polish Institute of Arts and Sciences, American Musicological Society, Polish American Historical Association, and other professional organizations. I'm currently serving as Board Secretary and Communications Director of the Polish American Historical Association, a member of an Editorial Board for Ecomusicology Study Group of the American Musicological Society. I'm also active as a member of Poets on Site and Village Poets (I maintain the Village Poets Blog for the latter group). In 2010-2012, I served as President of the Helena Modjeska Art and Culture Club in Los Angeles (Club). A full list of publications and conference presentations may be found in my detailed biography. The list of my books, both in print and forthcoming, is below: